With a tag line like "If the star fits….wear it" you can't help but recognize that this group is going to help you get places!
I met the Profile girls at HRTE in Las Vegas this last month. The girls were part of a group of people that spent two days educating other nail technicians about every thing from nail prep to legal issues in our industry.
Meet the Profile Girls:
These girls (sisters by the way) have been in the industry for over 20 years. They have 5 locations for their salons with over 100 nail tech's. All trained and mentored by the sisters so that the work is individual but of the same quality across the board.
They have this other wonderful option for us professionals.
Since they were continually asked "How do I become a Profiles girl?", they created Profiles "Backstage".
"Backstage" is a monthly subscription that gives you valuable information and products. As well as access to monthly video tutorials and 24/7 advice.
These girls also help you brand yourself.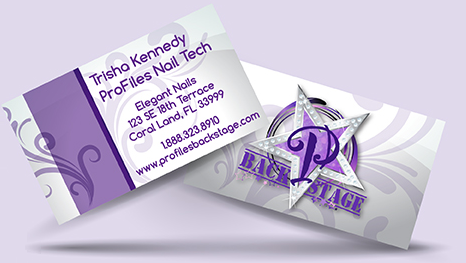 With complete and customized templates to create stunning emails, newsletters, coupons, business cards, loyalty cards etc.
They are deeply invested in the nail industry and know what works. After over 20 years of hands on, and with opening and franchising salons through Florida, these girls have good tricks up their sleeves. With "Backstage" access pass you get a inside track to this valuable information.
Also included in the cost ($29.95/month) of the "Backstage" pass is monthly kits that include product samples, seasonal colors and fun trendy design ideas. Along with a laminated card displaying the design idea and a simple step by step.
Membership also includes salon referral on the Profiles Backstage Blog where you can write your own ad. This allows folks from all over the world to find you.
Get ready to reach the stars with the help of the sisters from Profiles Backstage.
You can see all the extra goodies and info that these lovely gals are ready to help you with at their site. You can also find where the gals up coming classes will be held at. Go to https://www.profilesbackstage.com/