This statement that I read in the March issue of Redbook is so true!
Ji Baek, founder of Rescue Beauty Lounge nailcolors had this perfect reasoning with regards to nail polish and clothes.
"Polish is a lot cheaper than clothes, so I play with color on my nails."
Makes perfect sense to me!
Smart Lady!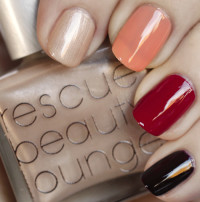 photo from
with Thanks