I have been working on some seasonal nail art for my post in Nail Art Gallery from Nails Magazine. (www.nailsmag.com)
I made some Easter Egg Skittle nails and didn't want to loose the work on my thumb because it is bling-y! (of course)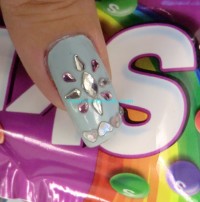 So, I left that one on and did a fun and classy looking design on the rest of them.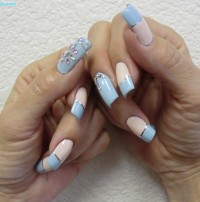 This is actually a easy nail art design. I think the colors make them look very classy.
A run through of this design for you.
I started with a base coat and then placed painters tape (YUP, painters tape) at an angle to match the angle of my free edge extension. (I have them filed at a 45 degree angle just to add some interest in my nails)
I then painted two coats of Sinful Colors "Easy Going" on my nails.
Once those were good and dry, I peeled away the painters tape to revel my non-lacquered free edges.
I then painted the tips with Essie's "Mint Candy Apple."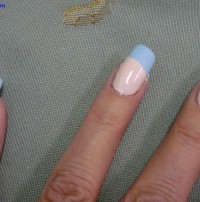 Let that dry really well and apply silver striping tape to divide the two colors.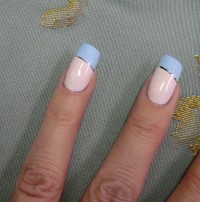 Apply top coat to seal in the tape and give shine to the nails. And your good to go.
I painted the middle finger on my right hand solidly with "Mint Candy Apple" and applied shiny bling to the nails as a accent on the other hand. I thought his evened out the hands nicely.