I had so much fun with the Cult Cosmetics Black Box I received that I thought I would keep it going.
In the recent past, there has been a nail art trend where the artist has one nail with completely different nail art.  Either the color is different or it has art on it.
Or maybe it has complete bling while the others are left with just lacquer on.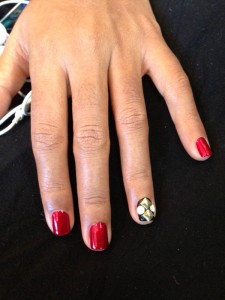 These nails are called "statement nails"
Picture courtesy of beautyeditor.ca
Some will have a sparkly nail for the accent on the statement nail.
Then some will have some will have a pretty design.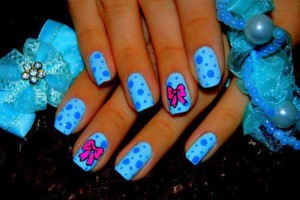 Picture from allforfashion.com
There is no right or wrong way to enjoy statement nails. They are simply a "Statement of your Style"! Which I LOVE!
So keeping with the theme I had going with my reversed stripped nails, I simply kept one nail painted with "Joshua Tree" from Cult Cosmetics, added some stipping, and then added some accent stones in a pretty blue! I sealed all this with a good top coat to keep the stripping from peeling off and so the stone would stay in place!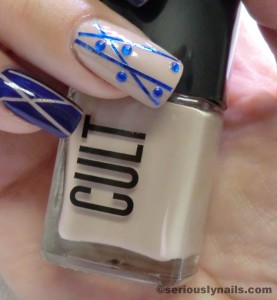 The pinky finger you see here started with 'one and done' "Joshua Tree", when that was dry, I applied stripping tape, then a coat of the 'one and done' "Point Dume". Once that was very very dry, I peeled off the stripping tape. Voila!!!!
This picture shows nails that I added accent to quadrants of the nails using 'one and one' "Weho"
Fun stuff!