After three years in the perfect location with a gorgeous store front and tons of walk by traffic, Va-Va Varnish is moving their space.
The move from 730 Market Street, San Diego is giving Va Va Varnish a chance to create an even more private and personalized service area where customers can still enjoy the vintage vibe of the old location.
The new location at 1205 J Street, Suite I in San Diego CA is less than a mile away from the original location. The new studio will grant roughly 1200 square feet of space to service their clientele but with a much cozier boutique style layout.
The new studio has 4 mani/pedi stations as well as 5 nail enhancement stations.
With a large portion of their clientele in love with the gel services which largely include nail art, the new location has more focus on those services.
You can find nail art services ranging from simple polka dots to intricate Swarovski Crystal designs at Va-Va Varnish!
All services are performed by highly trained stylists. I have met with Elizabeth and know first hand her passion for professionalism and correct procedures. So feel at ease knowing you will be taken care of by well trained stylists.
Plus with mission statements like
It's about making you feel beautiful, cared for, and special on the inside and the out. You will get 100% undivided attention and a custom relationship with your personalized nail guru!
should leave you knowing your are in the best of hands.
With a comprehensive description of each service on Va-Va Varnish's  menu, you will fully understand what services you are receiving for your money.
New Eco-Friendly services!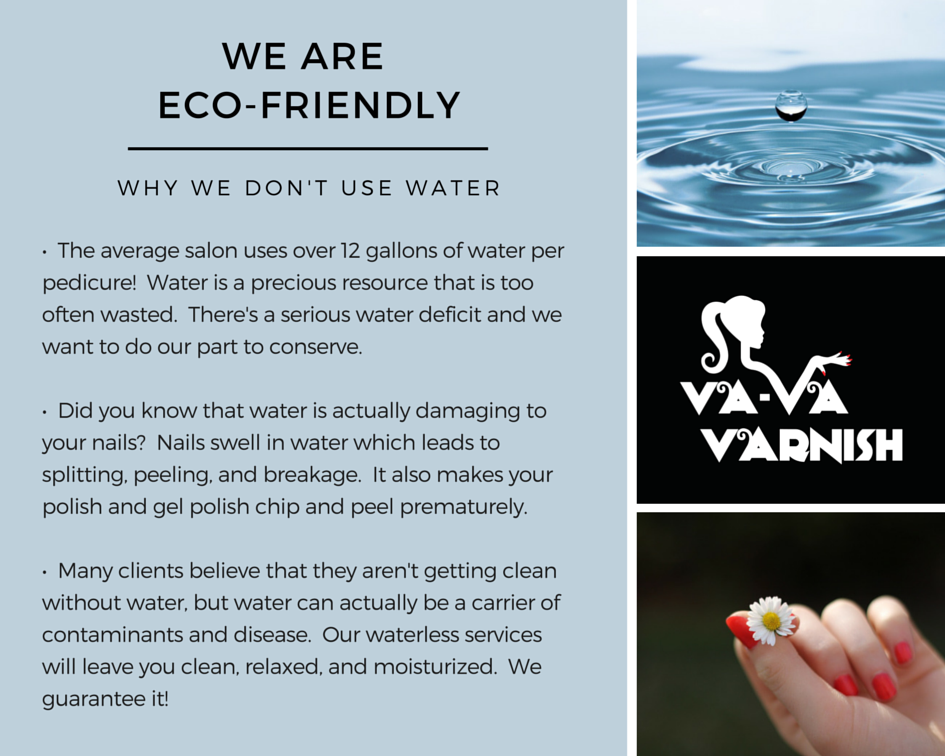 With the intense drought conditions in California , Va-Va Varnish is going waterless. By performing waterless services (which can actually hinder the retention of gel services!) they are creating the perfect canvas for gel services as well as doing their part in the water conservation effort. Thank you Va-Va Varnish!
You can expect to find high quality products like Swarovski Crystals as well as the innovative nail conditioning service IBX.
In a nut shell, Va-Va Varnish's employees are highly trained, creative and passionate nail stylist performing services in a cozy, sanitary (not sterile) boutique environment. Elizabeth's belief in continuing education, proper and complete sanitization and working with creative, caring stylists has created a unique and comfortable place to make both you and your nails happy!
Elizabeth promised me some pictures of the new digs after they get all moved in, so look for those in a up coming post!
You can see more of her menu and meet her staff at http://www.vavavarnish.com/ and look for Va-Va Varnish at the new location starting Sept 1, 2015
Va-Va Varnish's new location is
1205 J Street, Suite I, San Diego, CA
92101