I know it sounds weird! Who would want green nails???? EVER? Yuk right!
No not really. Not when it is just lacquer!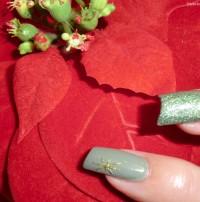 I was doing some nail art for a submission that I am working on for the new year (St. Patrick's day) and I thought I could take a detour and do a little Christmas art to see if I like the colors for the holidays.
You may notice the change in my nails shape. I am not sure what this is called but I have seen it recently in magazines/on line ect. Usually with a more dramatic edge to them. I am liking the shape of them. It is out of the norm for me but I like them.
My shape gives a nod to a fellow nail enthusiats and co-worker from my OPI days. Doni Horne has worn her nails "scooped" like this since I met her. She was way ahead of her time. Thanks for the softer version Doni!
The ones I have seen in magazines/on line are generally straight and pointed dramatically at the end.
So the colors I used were "Ruynon" from Cult Cosmetics for the base. "This is Tree-mendous" by China Glaze on the statement finger over Ruynon. I used a sparkly gold striping paint with a stripping brush to make the star.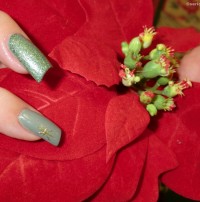 And to kick it up a notch, I used "Don't mess with OPI" under my nails to give them a darker Christmas surprise!