My third Cult Black Box arrived last week with three colors, and 5 (count them 5) different dotting tools.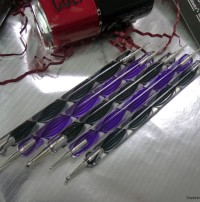 They have different sized balls on the ends so you can make small, medium or large dots. Or as I have done, used the largest one to make a lone line of color.
Here is a step by step for you. Apply base coat, then one coat of Cult's "One and Done" lacquer in 'El Matador'.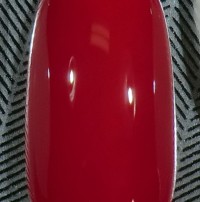 Next is to apply two diagonal strips across the nail in the color 'Boneyards'. As you can see, the lines do not have to be perfect. These are off center for extra character!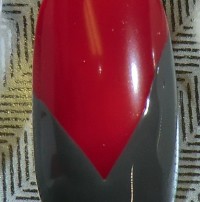 Using the largest dotting tool dipped in 'Stay Gold', I started at the center of the nail where the color met. I gently pulled the tool towards the side of the nail. Repeat on the other side.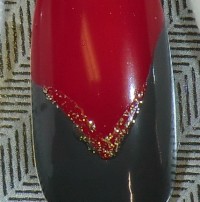 As you can see, it doesn't go all the way to the end, so I used the same dotting tool and added a couple of accent dots to complete the line. Then some accent dots on top of the free edge for some glitz!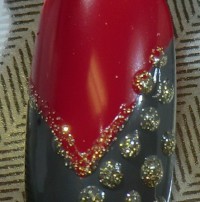 Top coat and finished. Kind of cute. I really like 'Boneyards'. The color is almost purple tinted medium grey. I am sure I will find more uses for this one!
Have a great day.