Yesterday, I got my first Black Box from Cult Cosmetics. It had very beautiful lacquers in there and some information on trends and styles. As well it showed some nail art ideas.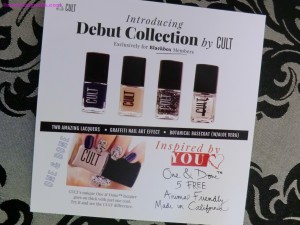 On the back side, it showed some beautiful clothing trends where the models were wearing the deep jewel tones that were reflected in the nail colors they sent me.
One unique thing about the "Debut Collection" is that is consist of a couple of "One and Done" lacquers.
These lacquers are very rich in pigment and are quite thick. The good thing about them is that it really is one and done! There is a little bit of a learning curve with these just because they are thicker and more jelly like, but just a couple of tries and you get it.
This is the gorgeous "Point Dume". I put only one coat of this on to show you that, yes, it is one and done. And drying time is fast. Jackie put one coat on yesterday and told me today that she couldn't believe how well it adhered to her nail. (She incidentally didn't use a base coat!)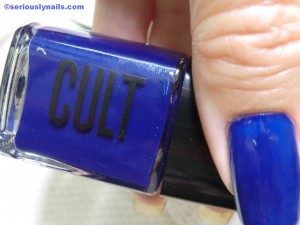 Pretty isn't it!
So I decided to do some nail art and this is what I came up with. Since I got all those packages of stripping tape, I used them to make the design.
I started with a base color of "Joshua Tree"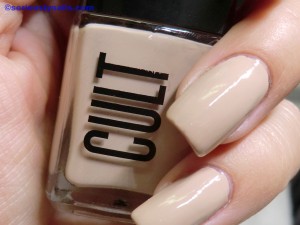 .
After it had dried, I added the stripping tape to nails.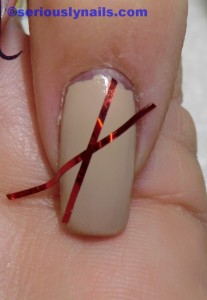 And once they were placed securely, (make sure all your ends are tucked in tight to the nail or else you will get croooked lines.) I polished over top of the tape with "Point Dume"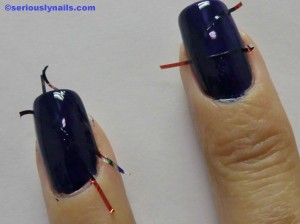 You have to really let this coat dry.
I was pleasantly surprised with the fact that this lacquer dries as quickly as it does. Very nice for people like me who don't always have a lot of patience.
Once the lacquer is completely dry, gently remove the tape from the nail.
I added a little bit of the Graffiti Nail Art lacquer, called "Weho", to different quadrants on the nails just for a little bit more glam!
Although these lacquers are very shiny when dry, I added a top coat for good measure!
The box also came with a "Botanical Base Coat" that has aloe vera in it. Cult Cosmetics also states that the lacquer is free from DBP, Toluene, Formaldehyde, Formladehyde Resin and Camphor.
I have to say, I am pleased with my first Black Box! I am looking forward to seeing what is in store for next month!